The results are in for the Archaeon competition for which we welcomed you to share your photos taken at a favourite location with us. Our jury gave the results:
Adela Custo, Mostar, art historian,
Amra Dragnić, Sarajevo, MA in Architecture,
Igor Kuvač, Banja Luka, MA and PhD student at the Department of Urbanism and Spatial Planning, University of Granada,
Marija Pušelja, Đurđevac, photographer and diplomatic media representative at the University of Mostar,
Edita Vučić, Mostar, prof. of art history and graduate archaeologist, candidate for a second year of postgraduate doctoral studies degree in archaeology in Zagreb.
With a total of 21 points, the winning photograph was taken at the location of Počitelj. The owner of the photograph goes by the pseudonym Yoanna.
We bring you the results of the vote on the remaining photographs:
2. empress, "Roman entourage" (points: 18)
Location: Narona (the museum in Narona)
3. Zrinka (points: 16.5)
Location: Condura Croatica, Nin, HR
4. Brač man, description: "Beer was consumed by ancient Egyptians, and it is thought that an
empty beercan was found in the vicinity of Milne, Brač, originates from the early middle
kingdom." (points: 15,5)
Location: surrounding area of Milne, Brač
4. Hellas (points: 15,5)
Location: Epidaurus theatre, Peloponez, Greece
6. lily (points: 13)
Location: Narona (museum in Narona)
6. Velimir (points: 13)
Location: Chafarnaum, Galilea, Israel
7. Opica (points: 12)
Location: Umor in Počitelj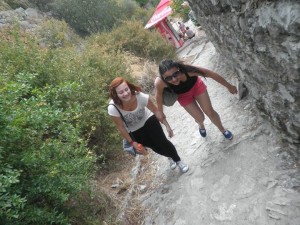 The following two tabs change content below.